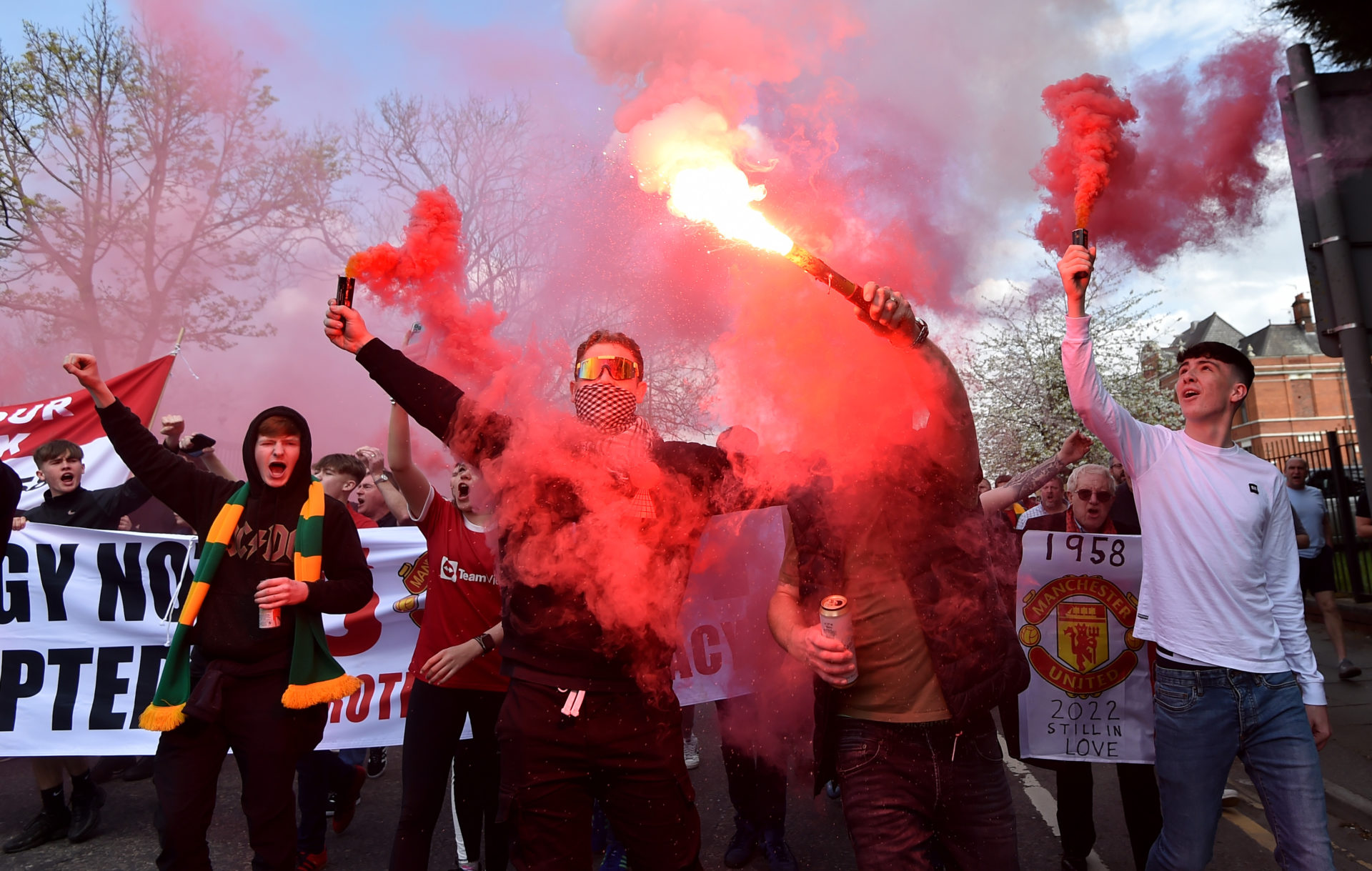 Manchester United fans are planning large scale protests ahead of tonight's Premier League game with Liverpool.
Two years ago the same fixture was called off because fans blocked team coaches at their hotels and managed to get inside Old Trafford and onto the pitch, for the match which was due to be held behind closed doors.
Liverpool boss Jurgen Klopp is worried about a repeat, shamelessly begging via BBC Sport for Liverpool to be awarded a win if the game is called off again. He said: "I really hope it will not happen but if it does happen I think we get the points."
The match is a huge one for the starts of both teams after poor starts to the season. United's two defeats to begin the campaign has exacerbated the ill feeling towards the Glazers.
READ MORE: Confirmed Manchester United transfers, ins, outs, loans, releases for 2022/23
Photo by Christopher Furlong/Getty Images
protest plan
Manchester United fan protests against the Glazers were reignited by The 1958 group earlier in 2022. After forming, they pledged 'sustained' anti-Glazer action and have stuck to their word.
Protests were visible at home games last season, on banners at away games, and a large scale march is planned before kick-off against Liverpool.
Supporters are being asked to congregate at The Tollgate pub at 6.30pm to begin a march towards Old Trafford for 7pm.
Some fans have pledged not to go into Old Trafford to watch the game, staying away to try and show their displeasure with the ownership by leaving seats empty.
Banners and flares are expected to light the route to Old Trafford before kick-off, while protesters are urged to stay peaceful and legal, while venting their frustrations.
United would have hoped the new signing of Casemiro might ward off the protests. no chance The situation is too far gone.
Enough is enough
New manager Erik ten Hag was handed a weak squad to start the season with major holes in it, which highlighted the woeful mismanagement under the Glazers.
Over 17 years the owners have not put a single penny of their own money into the club, reliant on the funds the club generates.
But even if they had put their own funds in, they would have been wasted, because they have hired under-qualified leaders like Ed Woodward to run the club. This summer has simply been a continuation, even with Woodward gone.
The Glazers inherited a financial and sporting behemoth. Now in sporting terms United are also ran, and off the pitch they are being left behind too.
The Times reported at the weekend the Glazers were looking at selling a portion of United's future television revenue to finance a stadium expansion.
This cannot be allowed to happen, and illustrates how the owners simply don't have the capital themselves to give the club what it needs to move forward. Instead they are considering mortgaging the club's own future, losing out on long-term income.
The Glazers are also the only owners in English football to take out dividends to pay themselves, collecting around £11 million twice a year.
The club's debt stands at £500 million, and is no closer to being paid off. United's income simply goes towards paying interest payments on the debt, rather than reducing it.
Photo by BERTRAND GUAY/AFP via Getty Images
A ray of hope
United fans have often wondered where Glazer Out protests can lead. Now there is an answer on the horizon, thanks to billionaire Sir Jim Ratcliffe.
Ratcliffe laid his cards on the table last week via a company spokesperson who told The Times: "We would be interested in talking with a view to long-term ownership."
This is a game changer. Ratcliffe has the funds to buy United, and the desire. Unlike the Glazers, he is not motivated to get into football by profit.
He told BBC Sport earlier this year he was prepared to make a long term commitment to buy an English football club, and would invest £1.75 billion over 10 years, which would include stadium rebuild.
At tonight's protest march there are likely to be 'Ratcliffe In' banners among the many 'Glazers Out' placards, as fans see a light at the end of the tunnel.
The Glazers' ownership over the past 17 years has been ruinous. Their time should never have come in the first place, and it really should be up now.
Ratcliffe has given fans the extra incentive required to step up protests, and tonight's game against Liverpool is just the start of the next phase to attempt to force the Glazers to sell.
show all
Dan is still wondering what would have happened if United had kept Juan Veron…
Casemiro to be unveiled before kick-off as report reveals his shirt number