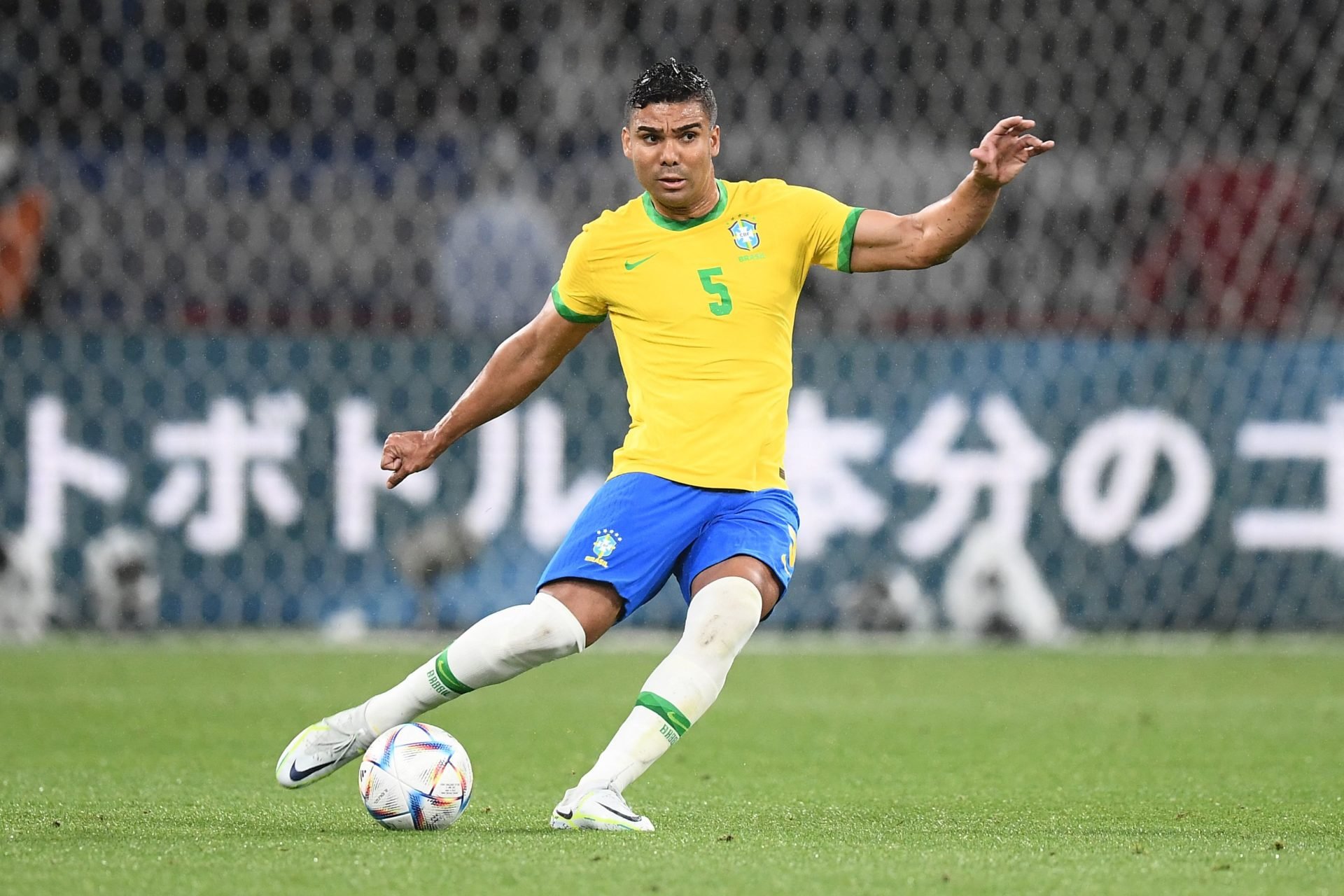 It isn't every day Manchester United are linked with a player who could solve all the problems in one swoop. Yesterday was that day.
Marca reports Manchester United are eyeing a possible move for Real Madrid midfielder Casemiro.
The Brazilian is expected to eventually be phased out by new signing Aurelien Tchouameni, although this could take place over a couple of seasons, rather than immediately.
United are reportedly intrigued enough to try and make it happen, and while a move could be too overly ambitious for this crisis-hit club, it might be worth trying.
READ MORE: Confirmed Manchester United transfers, ins, outs, loans, releases for 2022/23
Photo by NELSON ALMEIDA/AFP via Getty Images
Everyone is a winner if Manchester United pull off Casemiro deal
This move is a rare case where everybody concerned would be a winner. Casemiro is a top talent, a genuine defensive midfielder who is a proven winner.
The 30-year-old has a tough streak sorely lacking from United's set up at the weekend, and he would strengthen United in all phases of the game.
Casemiro would add positional discipline to this United team, immediately giving the team better shape, helping to shield the defense and more effectively build attacks.
Two players in particular would flourish, both who have played with Casemiro previously. He could help both of them reach new heights in a United shirt.
Raphael Varane: The Frenchman benefited at Real Madrid from having Casemiro in front of him, patrolling in front of the defence.
This enabled him to bring the ball out from the back with more confidence, Casemiro's ability to break up attacks helping his side enjoy more possession.
fred: Fred's performances for Brazil have been so eye-catching that Manchester United fans have often wondered if there is a different player in action for the Selecao.
There is one key difference, he is playing alongside Casemiro rather than Scott McTominay.
Casemiro's ability as a defensive midfielder enables Fred to roam forward and get into the final third with more freedom, and while international football is very different to the demands of the Premier League, this is a combination which has some potential.
While wary, Manchester United should pay what it takes
The failed Bastian Schweinsteiger move showed the dangers of signing for a midfielder who is 'past it'. Casemiro is not there yet.
The German midfielder was 30 when he signed for the club, the same age as Casemiro. Buying a player on the way down in their career is always a risk.
There is a clear difference in fitness. Schweinsteiger played only 43 league games across his two final seasons at Bayern before this, while Casemiro played 66.
He is still playing at an extremely high level, helping Real to win the Champions League final last season. Every transfer has an element of risk to it, but taking into account how wretched Manchester United's midfield options are, a player of Casemiro's quality is worth gambling on.
Now, do we have faith in Manchester United's Z-grade transfer department to make this happen? That is another matter entirely…
show all
Dan is still wondering what would have happened if United had kept Juan Veron…
Details emerge of Manchester United's Rabiot wage offer and how Red Devils got lucky