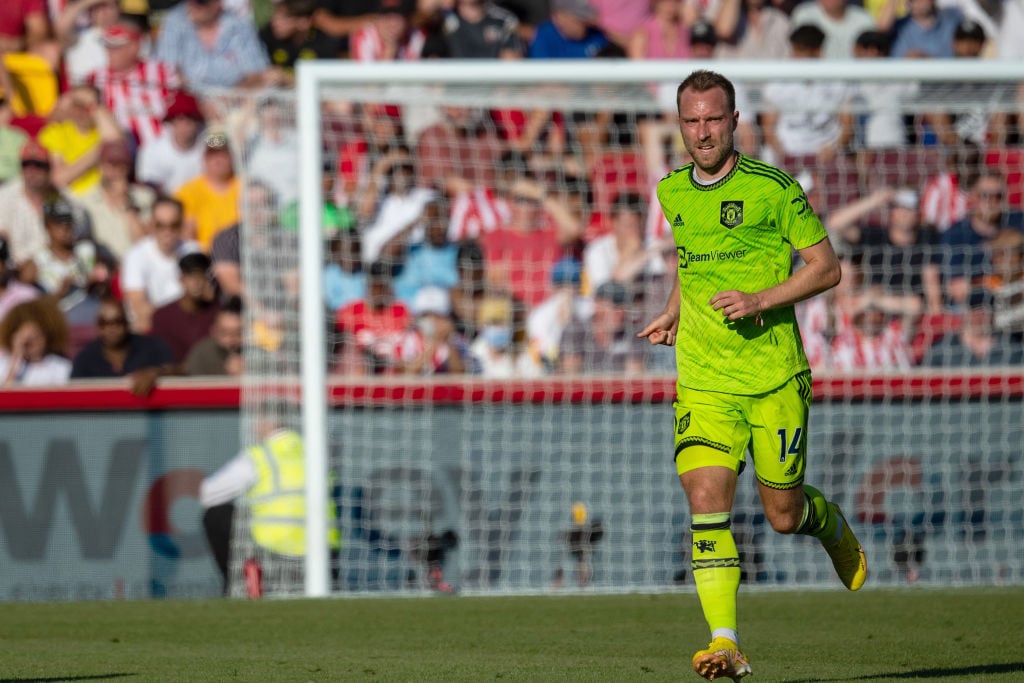 Christian Eriksen's agent commented on the reception of the Manchester United ace received upon returning to Brentford.
After being booed by sections of the Brentford crowd in last Saturday's chastening 4-0 defeat at the Brentford Community Stadium, Bees owner Matthew Benham contacted the Danish playmaker to express the club's regret.
Brentford manager Thomas Frank had already received spoken of his displeasure in the reception of the former Bees midfielder.
Photo by Ash Donelon/Manchester United via Getty Images
The 30-year-old opted to join Erik ten Hag's Red Devils on a three-year deal instead of re-signing with the west London outfit, following the expiry of his short-term deal with the Bees.
After suffering a cardiac arrest at last summer's European Championships, Brentford offered the former Ajax, Tottenham Hotspur and Inter Milan a route back into professional football and Eriksen signed on the dotted line in January.
Photo by Sebastian Frej/MB Media/Getty Images
Prior to Eriksen's arrival at Brentford, it looked like Frank's side were heading for a relegation dogfight with their form significantly nosediving.
But the arrival of their influential former number 21 proved to be the catalyst in them finishing comfortably clear of the relegation zone. Brentford gathered 22 points from the 10 matches Eriksen started.
The midfield maestro provided five goal contributions in 11 Premier League outings for the Bees, as he spearheaded Brentford's revitalization under his compatriot.
Benham is understood to have personally contacted Manchester United's number 14, who started the 4-0 defeat against his former side, to apologise, and make clear the club's disappointment at the booing.
Speaking to the Mail about Eriksen's booing, his agent Martin Schoots said: "I don't think the reaction was the height of sportsmanship.
"The club did the right thing to react in this way, especially after the difference Christian made last season."
Passionate football fan that completed an NCTJ-accredited Diploma in Multimedia Sports Journalism in 2016.
Antony and Neymar react to Casemiro's impending Manchester United move