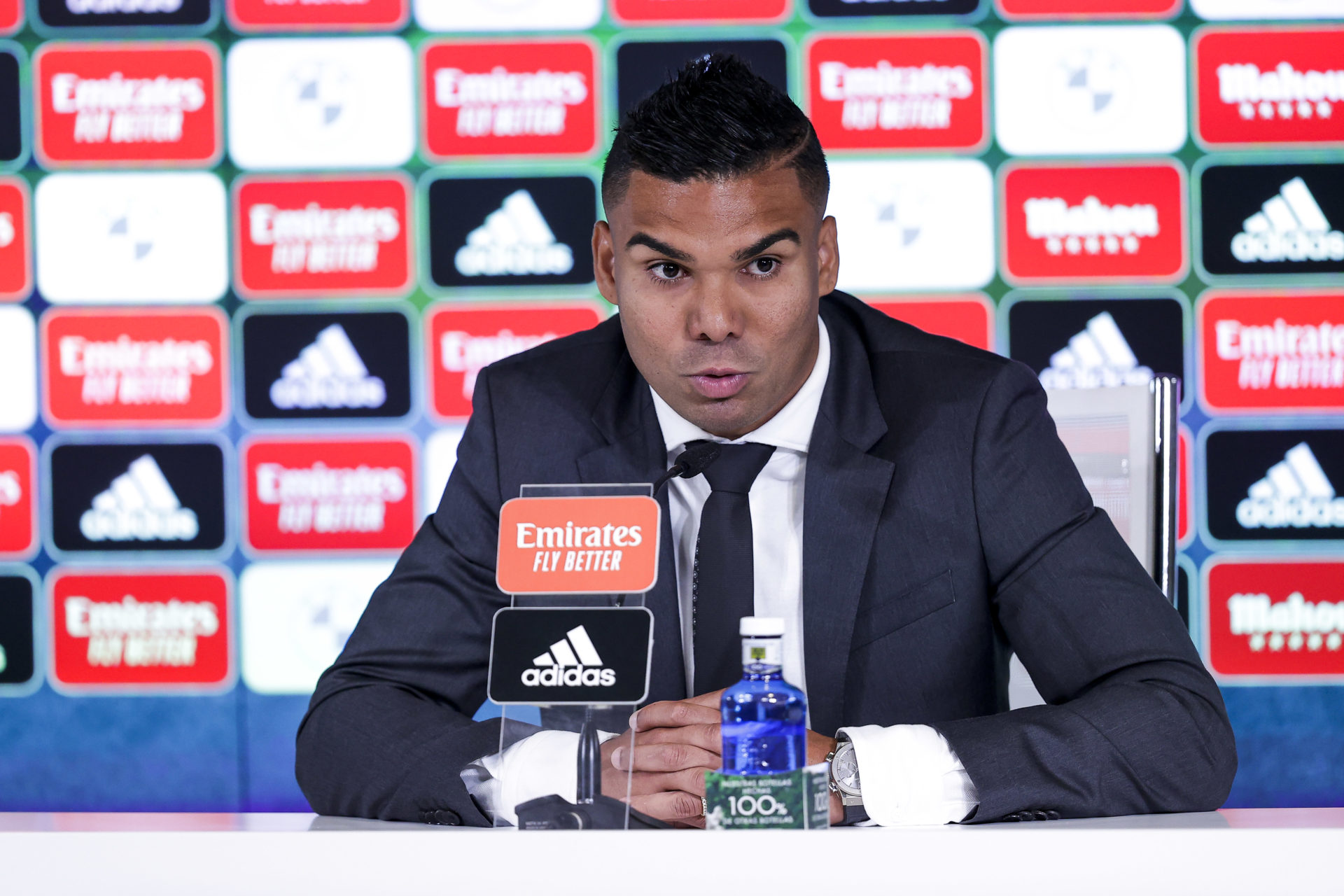 Casemiro's move to Manchester United was announced at the end of last week, and while Raphael Varane welcomed him immediately, there has been silence from Cristiano Ronaldo.
Ronaldo and Casemiro played alongside each other at Real Madrid, with the Brazilian a huge admirer of the forward.
Ronaldo's silence is no doubt connected to his own uncertain future, with The Times reporting he asked Manchester United to let him leave earlier this summer.
Casemiro spoke to the media at a press conference in Madrid to say goodbye, and says he hopes Ronaldo stays at Manchester United.
READ MORE: Confirmed Manchester United transfers, ins, outs, loans, releases for 2022/23
Photo by David S Bustamante/Soccrates/Getty Images
Casemiro hopes Cristiano Ronaldo stays
Quoted by Marca, Casemiro says he is optimistic he will be able to play alongside Ronaldo at Manchester United.
He said: "I haven't spoken to Cristiano, I hope he stays because he's one of the best players of all time."
The Brazilian also discussed what he hopes to bring to Manchester United, commenting: "I want to bring my values ​​​​to Manchester United, everything that Real Madrid taught me, to win from day to day, from every training session.
"People don't forget the club I'm going to, the biggest team in the world and that can compete with the greatness of Real Madrid, although now it doesn't."
He added that he began to feel his time at Real Madrid may be coming to an end after the Champions League win in May.
He explained: I had the feeling that my cycle was over. I'm honest. After the holidays, with a clear head, the feeling was the same.
"I want to experience the Premier from within. At 30 years old, I am in the best moment of my career. I enjoy everything I have."
Casemiro could be unveiled before kick-off tonight as United face Liverpool, amid reports via Marca he will be given the club's number 18 shirt.
Fabrizio Romano reported he completed his medical at the weekend and is now just awaiting a work visa before he can be eligible to be registered.
show all
Dan is still wondering what would have happened if United had kept Juan Veron…
Cristiano Ronaldo sends wordless message ahead of Manchester United's clash against Liverpool