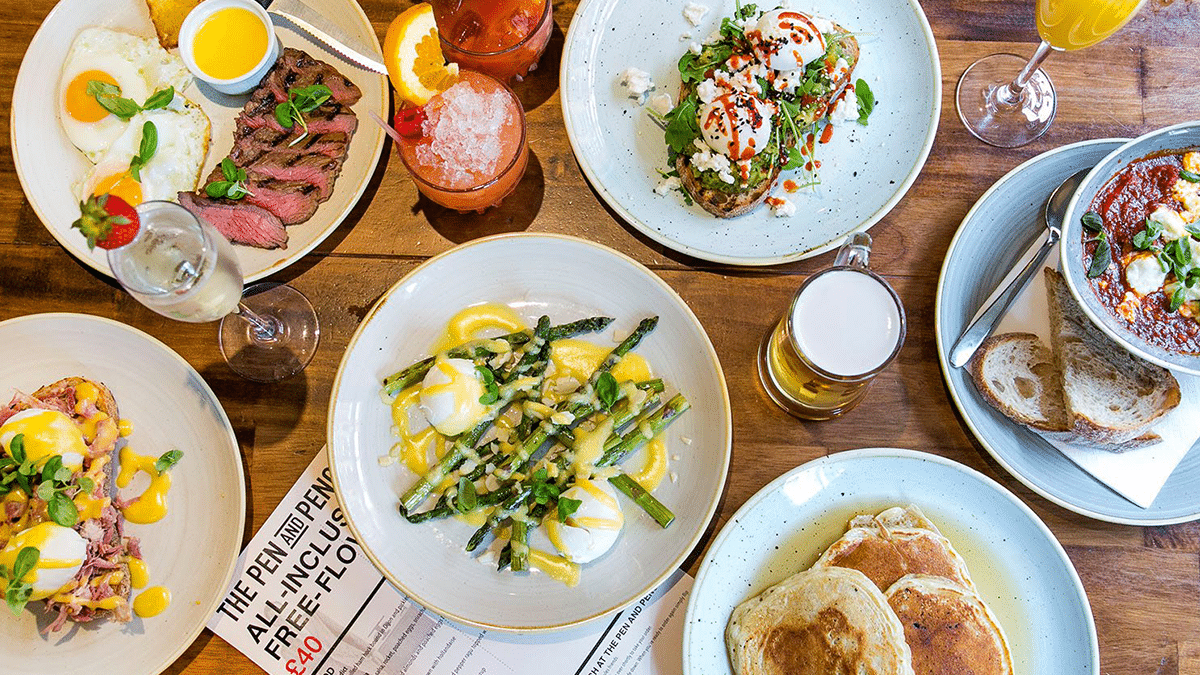 Whether you prefer your bottomless brunch with nostalgic 00s R&B music or live entertainment with a 1920s twist – Manchester has the ultimate weekend brunch option for you.
Rendition has theatrical style cocktail menu, including the popular Rendition's Red Hot Fun, and The Dance (Credit: Ellie Boyle/Rendition)
Elnecot Bottomless Brunch
41 Blossom Street Cutting Room Square, Ancoats, Manchester, M4 6AJ
Elnecot is a neighborhood bar and kitchen serving quality British inspired food.
The city is brimming with bottomless brunch options, and Elnecot, in Ancoats, has proven to be arguably one of the best.
The menu has so much to choose from – whether it's their Shakshuka, the breakfast sandwich, the popular crispy pork belly, the classic full-English breakfast, or their vegan options – such as wild mushroom on toast.
With any of the brunch options, you can choose to have bottomless booze for two hours at just £25. The drinks include Prosecco, Aqua de Valencia, breakfast martini, bloody mary or lager.
Bottomless brunch on a Saturday is 11am till 3pm, with the last booking at 2pm. On Sundays the brunch menu is only served between 11am and 12.30pm.
La Bandera's Spanish Bottomless Brunch
2 Ridgefield, Manchester, M2 6EQ
La Bandera is an award-winning Spanish restaurant, situated in the center of the city, close to Castle Fine Art Gallery.
La Bandera, which means "the flag" in Spanish, represents all the different flavors found in Spain under one flag. The bright colors on the Spanish flag have been used to design the interiors of the restaurant.
This independent restaurant made their bottomless brunch better than ever when it was relaunched.
For the price of £32.50, you get a massive sharing platter of Spanish cheese and meat, three tapas and bottomless beer or cava for 90 minutes.
The menu offers plenty of classic dishes to choose from including Spanish meatballs, patatas bravas, calamari, chorizo ​​in red wine, and croquettes.
The bottomless brunch runs every Saturday and Sunday between 11am and 4pm.
The Pen & Pencil Bottomless Brunch
57 Hilton Street Northern Quarter, Manchester, M1 2EJ
The Pen and Pencil is a Northern Quarter bar and restaurant that sits on the corner of Hilton and Tariff Street in Manchester.
This eatery definitely has something tasty for everyone. They serve food all day, with brunch sandwiches, burgers and mains all available.
The Pen & Pencil offers an all inclusive free flow brunch, where you pay £40 for as many drinks and food as you can possibly manage.
Bottomless brunch at the Pen & Pencil (Credit: The Pen & Pencil)
The menu features a variety of classic brunch dishes including steak & eggs, eggs benedict, eggs florentine, royale with salmon and American pancakes.
The booze on the brunch menu includes prosecco, mimosa, bloody mary, lager and cocktails.
Bottomless brunch is not a weekly occurrence at The Pen & Pencil – instead it's exclusively on the last Saturday of every month from 10am to 1pm.
Revolution Parsonage Gardens – Bottomless Brunch
Arkwright House Parsonage Gardens Arkwright House, Manchester, M3 2LF
Revolution Parsonage Gardens is centrally located within the city, and is great for dining in the day as well as on nights out in Manchester.
With its delicious cocktails and funky DJs, it's no wonder it's one of Manchester's best-loved bars and restaurants.
For the bottomless brunch, you can choose one of the delicious dishes and enjoy 90 minutes of bottomless fun from the drinks section.
The menu includes classic brunch options like the brunch grill, loaded hash browns, and avocado on sourdough. It also has less traditional options such as fried chicken & bacon waffle, the brunch pizza, the brunch burger and Nutella pancakes.
The selection of drinks to choose from include, Aperol Spritz, prosecco, Ketel V&T, bloody mary, and the Revolution cocktail Blank Canvas.
They offer brunch from Thursday to Sunday, with the last slot being 4pm. To book a bottomless brunch, fill in the inquiry form here, and you will then be informed of the price per person.
Peaky Blinders Manchester – Peaky Bottomless Brunch
23 Peter Street, Manchester, M2 5QR
Peaky Blinders Manchester offers a luxury, immersive experience right in the heart of Manchester.
They have bespoke cocktail menus and a wide selection of drinks, homemade gastropub food and the very best in live entertainment – all with an authentic 1920s twist.
Their famous bottomless brunch is available to book every Friday and Saturday for just £35 per person. It includes 90 minutes of bottomless drinks and a birdcage of tasty bites to share.
The menu offers a meat platter, which includes pulled beef sliders, southern fried chicken with peaky BBQ sauce, lamb kofta bites with harissa mayo, and sausage lollipops with cumberland glaze.
Peaky Blinders Manchester's famous bottomless brunch, includes meat and vegetation platters and delicious cocktails. (Credit: Peaky Blinders Manchester)
There is also a vegetarian platter, which includes sweet potato sliders, vegetable samosas, chargrilled vegetable kebabs and halloumi fries.
With such an extensive drinks list to choose from, you can try anything from Peaky Blinder gin, and Peaky Blinder pale ale, to the delicious cocktails like Blood Orange Aperol Spritz, Our Boy Finn, and Manchester Spritz 2.0 & Dead Man.