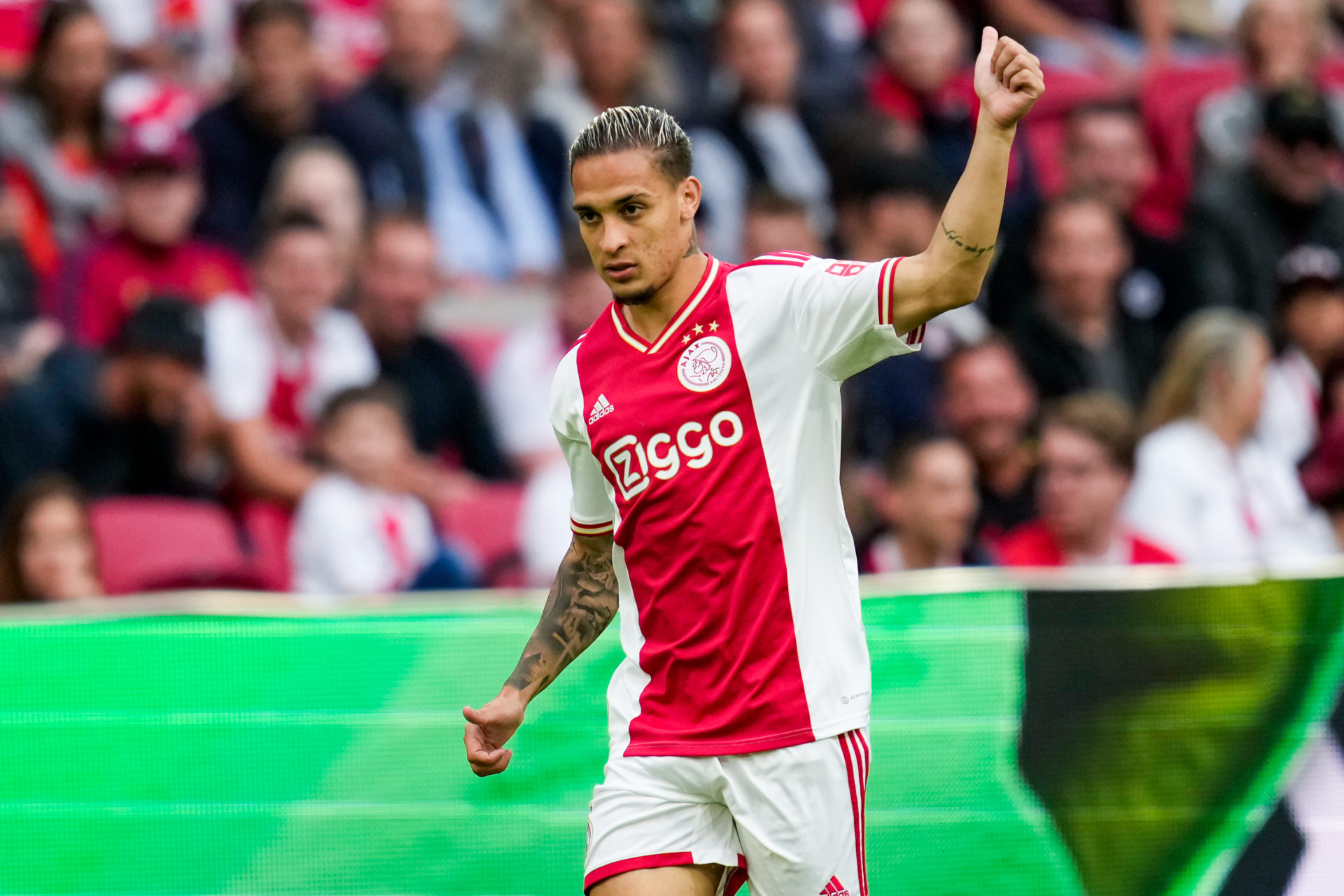 Manchester United are being strongly linked with a big money move for Ajax winger Antony.
The Times reports Antony could cost as much as £84 million, a fee United will look to water down with add-ons and clauses. The Athletic report Ajax could compromise at £79 million.
The fee is quite preposterous, but in a transfer market where Morgan Gibbs-White sells for £42 million and Anthony Gordon could move for £60 million, it suddenly doesn't look so unreasonable.
A move for Antony would be an expensive gamble. There are two reasons United should be confident enough to take it.
READ MORE: Confirmed Manchester United transfers, ins, outs, loans, releases for 2022/23
Photo by Patrick Goosen/BSR Agency/Getty Images
United move for Antony can work
A bet on Ten Hag: The first reason Manchester United should be confident Antony will work out is because it is effectively a bet on manager Erik ten Hag.
United believe Ten Hag is the man to turn the club's fortunes around, so it is important to give him the tools to do so.
Antony is a player he has proven he can work with, very effectively, and a player who is determined to play for Ten Hag.
United have failed to sign manager's first choice signings in the past, and paid a heavy price. This time they should pay what is required to get Ten Hag his top target.
Monday night's win over Liverpool showed what Erik ten Hag can do as manager, molding a struggling team into a winning one. Adding in his most wanted attacking player will further support his project.
A bet on yourself: This is a chance for United's negotiating team to shine in another manner, as the deadline ticks down.
While paying big for Antony is steep, the club can attempt to recoup as much as possible with a late window selling spree.
James Garner could fetch £20 million, while Brandon Williams, Axel Tuanzebe and Tahith Chong should all now be sold, their time at the club is up.
There could be other sales too, and United should target around £30-40 million made back in player sales before the transfer deadline.
Throw this kind up figure up against the Antony fee, and suddenly the net spend on the Brazilian does not look so high.
A big fee spent on Antony should concentrate United's efforts to cash in on unwanted players, and accelerate a push to raise funds. Cristiano Ronaldo could also leave the club, lowering the club's wage bill in the process.
A late window selling spree is overdue. United should back their own ability in the market to recoup as much as possible.
show all
Dan is still wondering what would have happened if United had kept Juan Veron…
Antony's representatives are staying in England to secure dream Manchester United transfer