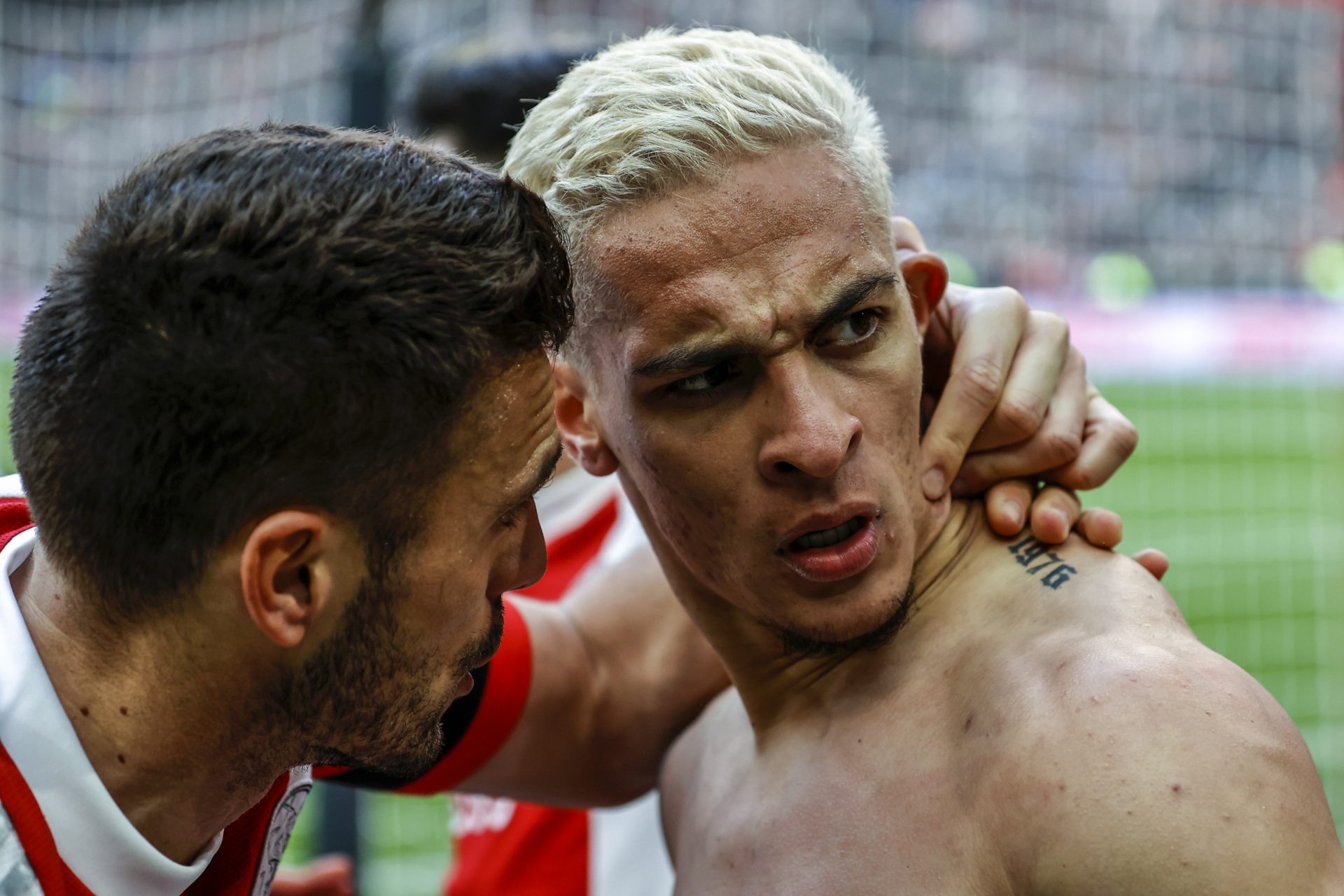 Antony is set to complete his £84 million move to Manchester United, with Fabrizio Romano and The Athletic reporting a deal in principle has been agreed.
The spectacular fee is the cost of doing business so late in the transfer window. Manchester United should have wrapped this up months earlier.
There will be considerable pressure on the winger to produce, but not from Manchester United fans. Not right away at least.
The deal could be completed later today, for Antony to follow Brazil international teammate Casemiro to Old Trafford.
READ MORE: Confirmed Manchester United transfers, ins, outs, loans, releases for 2022/23
Photo by Patrick Goosen/BSR Agency/Getty Images
Antony has already won Manchester United fans over
One of the reasons Manchester United were unable to clinch an early deal for Antony was because the club invested so much time and effort into signing Barcelona midfielder Frenkie de Jong.
De Jong made pretty clear he didn't want to sign for Manchester United, while Antony has been the opposite.
Even back in June, The Times reported Antony was 'determined' to sign for United, despite fears Ajax would price him out of a move.
When it came to mid-August and Ajax still resisted United's advances, Antony took matters into his own hands.
Antony went on strike by refusing to train and did not play in either of Ajax's last two matches.
Then his final move was to speak out in an unprecedented interview with Fabrizio Romano via YouTube, in which he detailed how he had been pushing to leave the club for months.
Now Antony is set to get his way, and he will be welcomed at Old Trafford with open arms.
Manchester United are set to sign a highly talented player who is not only desperate to play for the club, but he is willing to fight for it.
Without even kicking a ball for Manchester United or performing a trick, Antony has won supporters over.
If he shows this sort of fight on the pitch, which he no doubt will, then he will further endear himself to be a fan favorite.
One of the problems Manchester United have had in the past is to sign players who don't really want to be here. Or who have come for a big payday.
Antony is joining because he is ambitious, and wants to fight for Erik ten Hag, who signed him for Ajax. The manager has got his way too, adding a key player to the team's attack.
show all
Dan is still wondering what would have happened if United had kept Juan Veron…
Scott McTominay raves about 'amazing' Casemiro