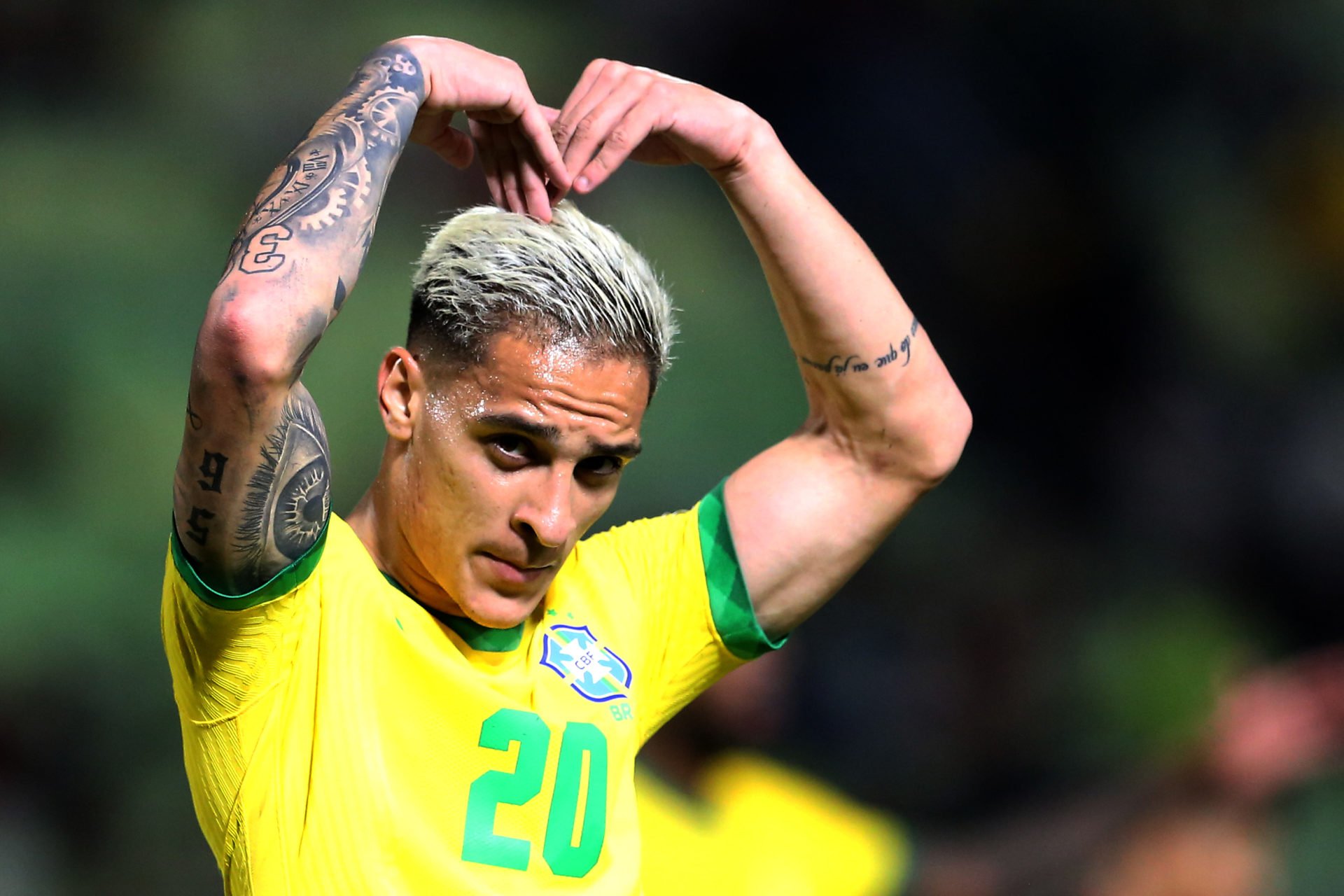 Brazilian players are famed for their skill, frequently seen lighting up international tournaments through the nation's glittering football history.
One of the frustrations Manchester United fans have had is that the club's recently signed Brazilian players have not had the flair stereotypically associated with Selecao greats.
Andreas Pereira never convinced, while Fred is more a workhorse in midfield. Even new signing Casemiro is labeled more of a destroyer.
Potential signing Antony, on the other hand, is exactly the type of player associated with the Brazil entertainer of yesteryear. Manchester United would be getting the 'full on Brazilian experience'.
READ MORE: Confirmed Manchester United transfers, ins, outs, loans, releases for 2022/23
Photo by Michael Bulder/NESImages/DeFodi Images via Getty Images
Antony can show what Manchester United missed out on
Back in 2003, Manchester United came close to signing Ronaldinho from Paris Saint-Germain. He was already a household name due to his World Cup exploits, and was tipped to become the club's marquee signing after David Beckham's departure.
Despite coming close to pulling off a deal, Ronaldinho opted to snub United's offer and move to Barcelona.
The miss wasn't as damaging as it might have been, with United opting for Cristiano Ronaldo instead. But fans were always left wondering what might have happened if Ronaldinho signed for the club.
Ronaldinho's near move to United became one of the club's great 'what if's. The player went onto lead Barcelona's renaissance and set the tone for the Lionel Messi era of success, lighting up La Liga with his skills and ability to unlock defences.
Now with Antony on the verge of a move to Old Trafford, Manchester United could get a look at one of the great entertainers of this current generation.
Voetbal International made the comparison last year, 'Antony brings a touch of Ronaldinho to Brazil', praising his international performances during the Olympics.
Antony said at the time of his 'elastic' move: "I am pleased that I can put this move into practice, of course with respect for the opponent. It just happened by itself, I always try to make something out of it."
The winger really is the perfect player for the social media generation. His tricks, flicks and chops are perfect for short videos which will have fans savoring, and wondering 'how did he do that?'. No wonder Manchester United are interested.
He has made it part of his routine to beat full-backs with his trickery, improvising, and he insists there is a point to them.
Speaking to De Telegraaf earlier this year, the flamboyant star said: "There will always be people who think the tricks are really cool and people who disapprove of them. I think my actions are functional, because I want to show the opponent that I'm the boss. And often it results in a goal or an assist."
If Antony's move to United goes through, which De Telegraaf suggest it will if the player gets his way, then there is a lot to get excited about.
The 22-year-old has passion and fighting spirit to his game, seen with his passionate celebration after his late winner against rivals Feyenoord last season, and the way he squared up to Darwin Nunez during Ajax's clash with Benfica. This will only further endear him to supporters.
show all
Dan is still wondering what would have happened if United had kept Juan Veron…
Bruno Fernandes sends message to Eric Bailly after completing Marseille loan move