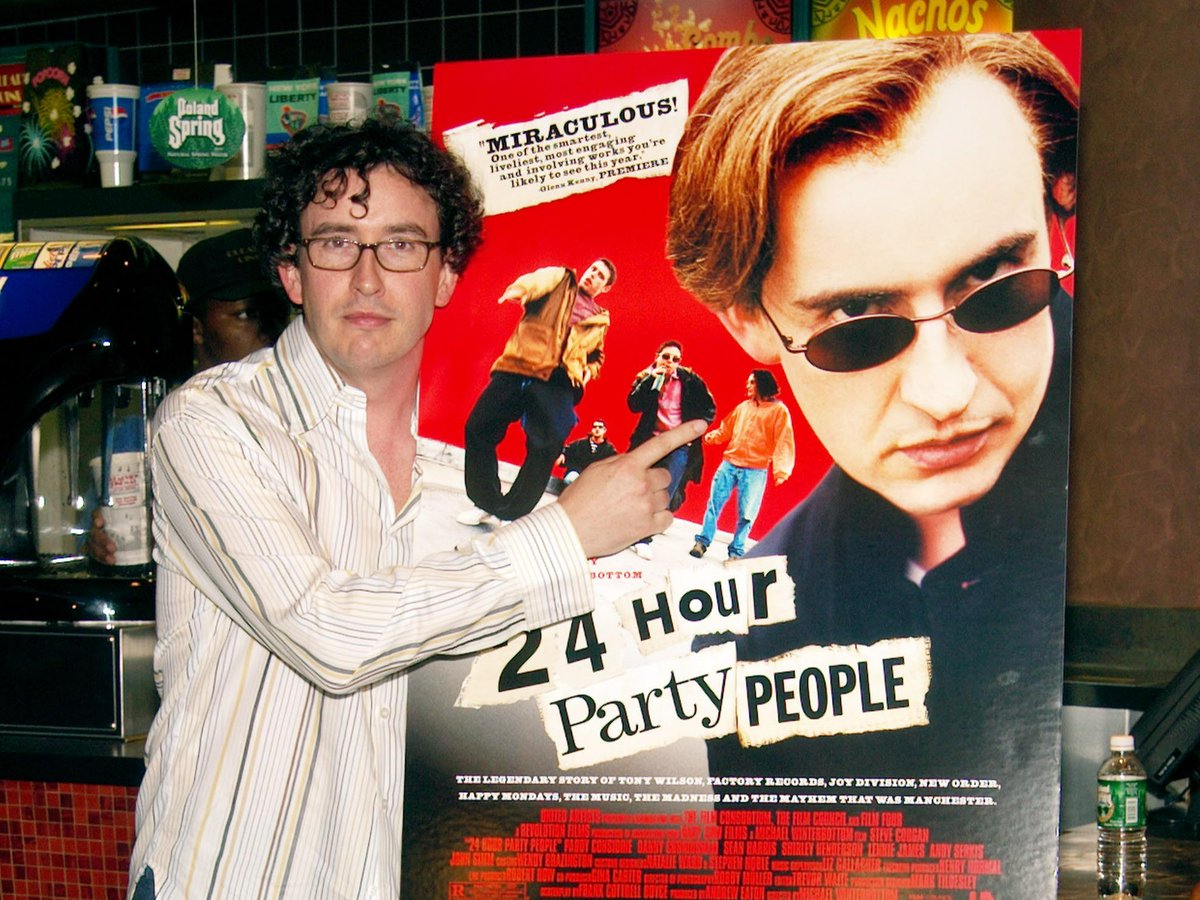 Manchester, with its thriving cultural scene, diverse population and long history, has inspired countless works of art over – from LS Lowry's industrial cityscapes to the lyrics of Oasis songs like "Half The World Away."
It's no surprise that the people, places and stories of this city have found their way onto the big screen as well.
Here are some of our favorite Manchester-set films that show that this city is as fun on-screen as it is in real life.
Actress Shirley Henderson, director Michael Winterbottom (C) and actor Steve Coogan at the New York premiere of 24 Hour Party People (Photo By Lawrence Lucier/Getty Images
24 Hour Party People (2002)
This cult classic, directed by Michael Winterbottom, tells the story of local hero Tony Wilson – the man who founded Factory Records, the Hacienda nightclub and made this city the place to be in the 1990s. Steve Coogan plays the journalist-turned-music mogul, alongside John Thomson, Shirley Henderson and Paddy Considine.
With an extensive Manchester soundtrack, plenty of cheeky fourth-wall breaks and a cast of characters that includes the likes of Ian Curtis, Johnny Rotten and Shaun Ryder, this film is perfect for anyone looking to relive the magic of the Madchester era.
24 Hour Party People is available to stream or rent on Amazon Prime.
Looking for Eric (2009)
Football is another important part of Manchester's cultural landscape and there have been several films that explore this. Looking for Eric is a story about a postman whose life seems to be falling apart until he has a marijuana-induced vision of former Manchester United star Eric Cantona. Directed by Ken Loach, the film stars Steve Evets, Stephanie Bishop and Eric Cantona as himself.
Looking for Eric is available to stream or rent on Amazon Prime.
read more
Control (2007)
This biopic looks at the tragic events leading up to the suicide of Joy Division's Ian Curtis, based on the the biography of the singer's widow Deborah Curtis. Shot in black-and-white, this moving film stars Sam Riley as the late musician, alongside Samantha Morton as Deborah.
Control is available to rent on Amazon Prime or AppleTV.
Peterloo (2018)
With a run-time of two hours and 34 minutes, this slow period film may not be for everyone, but it is a good way to learn about one of the most important events in Manchester's history, the Peterloo massacre of 1819. Salford-born Mike Leigh, one of the UKs leading independent filmmakers, directs a stellar cast including Bolton-born Maxine Peake and Rory Kinnear.
Peterloo is available to stream or rent on Amazon Prime.
Maxine Peake attends the UK Premiere of "Peterloo" at HOME during the 62nd BFI London Film Festival on October 17, 2018 in Manchester. (Photo by Shirlaine Forrest/Getty Images)
East is East (1999)
East is East is a comedy-drama that looks at the lives of a British-Pakistani family in 1970s Salford. Chip-shop owners Zahir "George" Khan, played by Om Puri and his white wife Ella, Linda Bassett, have seven children who are all trying to deal with their own multiculturalism and the challenges that poses in a changing society. Directed by Damien O'Donnell, the film also features Archie Panjabi and Jimi Mistry.
East is East is streaming now on BritBox and available to rent on Amazon Prime.
Spike Island (2011)
Spike Island is another film that looks back at 1990s Manchester. In particular, it follows a group of teenagers trying to secure tickets for the now-legendary Stone Roses gig at Spike Island in 1990. Starring Elliotttitsor, Nico Mirallegro and Game of Thrones' Emilia Clarke, this film is a typical coming of age story . And although it was not a critical success, it is sure to get you feeling nostalgic for Madchester glory days.
Spike Island is available to rent on AppleTV.
Actors Adam Long and Oliver Heald, stars of Spike Island, attend the film's premiere in London, October 20212. (Photo by Tim Whitby/Getty Images for BFI)
Raining Stones (1993)
Ken Loach's films are known for their portrayal of working class struggles, and this film is no exception. Set in Greater Manchester and filmed in Rochdale and Middleton, this is a comedy-drama about a father who will stop at nothing to raise enough money for his daughter's communion dress. It received critical acclaim when it was released, winning the Jury prize at the Canne Film Festival.
Raining Stones is streaming now on BritBox.
There's Only One Jimmy Grimble (2000)
Here is another film inspired by Manchester's love of football, but this time it's about Manchester City. This is a heartwarming story about a young boy who dreams of playing for City and his search for self-confidence. It stars Ray Winstone, Robert Carlyle and Gina McKee and is directed by John Hay.
There's Only One Jimmy Grimble is available to rent on Amazon Prime or AppleTV.