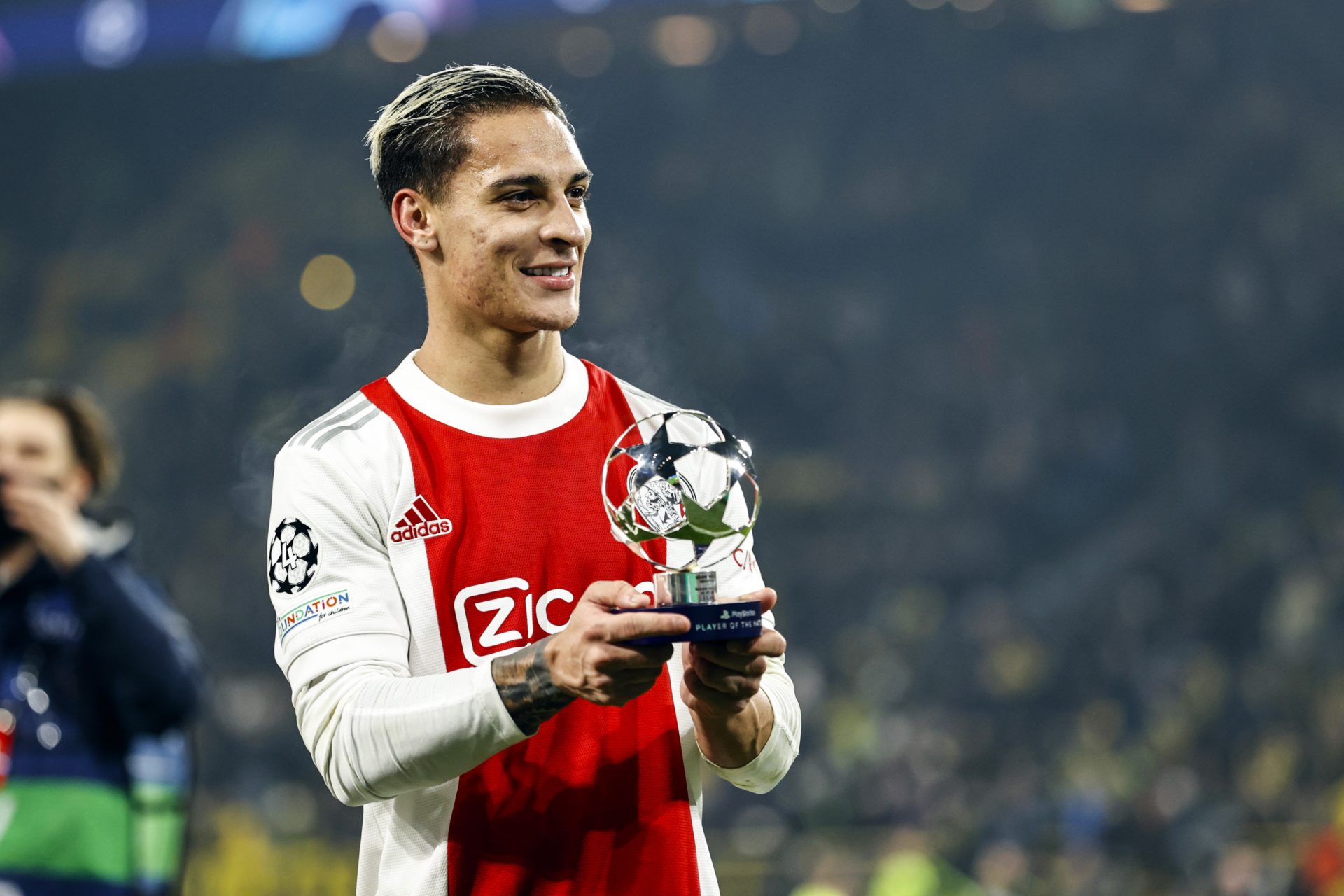 Manchester United's move for Antony is nearing completion. The Athletic report a principle agreement is in place with Ajax worth £84 million.
Now let's dig in to the winners and losers at Manchester United relating to Antony's imminent arrival at Old Trafford…
READ MORE: Confirmed Manchester United transfers, ins, outs, loans, releases for 2022/23
Winners from Manchester United deal for Antony
Jadon Sancho: Jadon Sancho might lose his place on the right wing but he will simply shift out to the left.
Sancho is arguably more effective on the left wing, some of his better games last season came in the position. With Manchester United investing £73 million in him a year ago, there will be a concerted effort to give him a chance to play alongside Antony.
amad: Long-term, Antony's arrival may hinder Amad. But in the short term, it's good news. It means Manchester United will grant the youngster a much-needed loan switch.
From there, it's down to him. Amad needs to seize an opportunity to play first team football and perform so well that he can convince United to rotate him with Antony in years ahead.
Casemiro: Having an extra Brazilian at Manchester United is clearly good news for Casemiro, and he knows Antony from the national team. But this pick goes beyond that.
Antony will help United to stretch teams, and be better and more effective in attack. This will in turn make the role of United's crucial defensive midfielder simpler
Photo by ANP Sport via Getty Images
Eric ten Hag: The Manchester United manager is a clear winner. He has got his man. Ten Hag signed Antony for Ajax and has pushed to bring him to Old Trafford. He could have settled for a cheaper option, and thankfully he didn't.
This move shows how much sway Ten Hag is being given in United's transfer policy. It was crucial for Ten Hag to get his top targets, and there is no winger he would rather have.
Losers from Manchester United deal for Antony
Marcus Rashford: If Jadon Sancho moves to Manchester United's left wing to accommodate Antony, then it will mean Marcus Rashford drops out of the first choice XI.
With United now entering a phase of two matches per week, this will matter less, but for the big games which matter, Rashford may now simply be a substitute when everybody is fully fit.
Anthony Elanga: Anthony Elanga could also see his first team minutes reduced, despite starting the last two games.
When Anthony Martial is fit, the Swede will return to being a back-up, competing with Marcus Rashford for minutes behind Sancho on the left. Elanga can still have a role to play, he was bright in the win over Liverpool, but he will have to lift his game to start regularly.
Facundo Pellistri: Unlike Amad, Facundo Pellistri won't be heading out on loan, due to an injury suffered in pre-season.
Most weeks, Pellistri won't make Manchester United's matchday squad, and he will have to hope for minutes in the Europa League group stages. Antony is a direct competitor who will jump ahead of him in the queue.
John Murtough: Manchester United's football director may feel smug that he has delivered one of Erik ten Hag's first choice targets. But he can't feel happy with the price paid.
United should have planned for an early Antony deal, to try and wrap up the signing in late May or early June. He could and should have been with the squad for pre-season, and he would have cost a lot less then too. Manchester United have paid a high cost for doing business late.
show all
Dan is still wondering what would have happened if United had kept Juan Veron…
Manchester United want to sign goalkeeper Martin Dubravka next